From a Rival To Becoming a Coach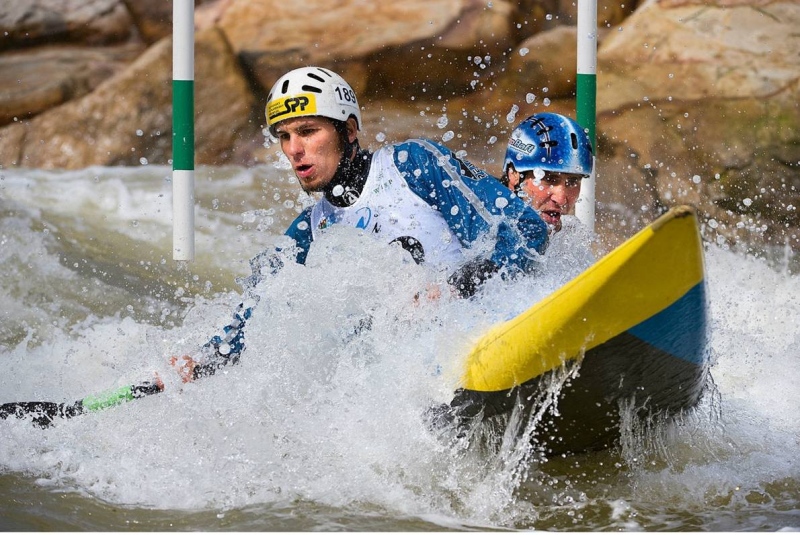 The paths of Matej Beňuš and the Olympic medalist Juraj Minčík crossed in many ways. Firstly as rivals and competitors and later as a coach and his trainee. Both have dedicated their lives to whitewater slalom canoeing and they both competed in the C1 category at the races all around the world. ,,The last time I raced, it was in the same boat with Matej at a race in Wisp in the US in 2008," disclosed Juraj Minčík and he continued: ,,At that time it was a rarity, but now many C1 racers also paddle in the C2 category." 
They decided to give it a try and ended up finishing second. However it was not without complications. ,,After we crossed the finish line, we flipped in the last drop. We were both so excited from the run and we wanted to see the result on the scoreboard. So we turned sharply, but at that moment we flipped. We have never tried to roll up in a C2 boat, each of us trying to roll up on a different side." Minčík shooked his head, as he was remembering this story, smiling. He continued: ,,I didn't expect to end my career in such a dramatic way. When I finally swam out of the boat, I was out completely of oxygen. Maťo was already waiting for me on the shore." 
They roles are flipped now - Juraj Minčík follows Matej's runs from the shore. ,,I know him very well, even before I started coaching him. However it is no secret that I sought out a sport psychologist to advise me about how to handle this new situation. I had to decide if I wanted to be more relaxed in our relationship or to be strict. We were friends and we understand each other, but there are moments when one must say what he thinks." But former rivals seem to have found a common approach. Their cooperation seems to be very successful at the moment - after all, Matej qualified for the Olympic Games in Rio and will do his best to win the Gold in Brazil.