Saturday's silver medal from the world championship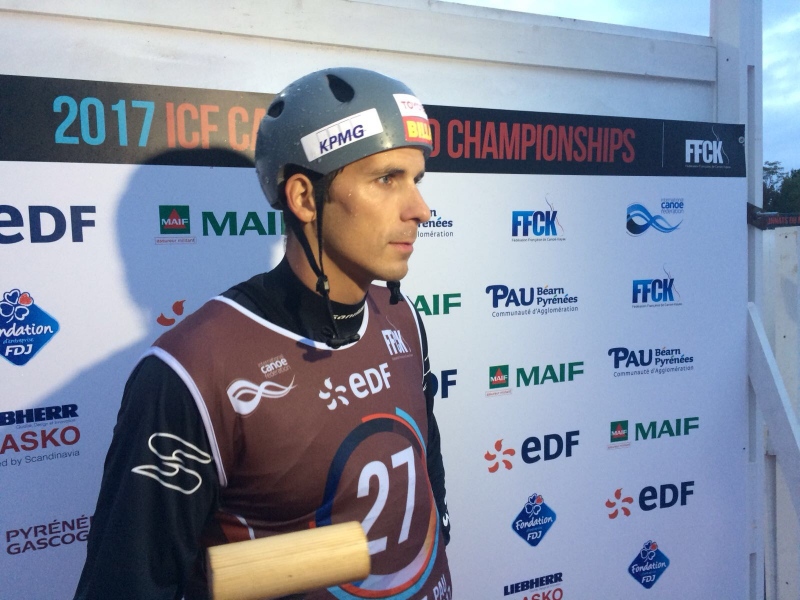 Three events, one gold medal, one silver medal. That's Matej Beňuš' result from the 2017 ICF Canoe Slalom & Wildwater Canoeing World Championships that took place in Pau, France. Silver olympic medailist from Rio de Janeiro 2016 was one of the three canoeists who won the gold medal in the canoe team competition. Together with Michal Martikán and Alexander Slafkovský, Matej won the gold medal for the seventh time in a row. "It's incredible that we are the world champions for the seventh time in a row," said Matej Beňuš on Tuesday.
On the following days Matej qualified as a single canoeist for the competitions in both sprint and slalom. Both competitions reached their end on Saturday. Matej wasn't successfull in slalom - in the semifinals he ended up on the thirteenth place and did not make it to the finals. "I felt great on the water. There was no wind which was important. The fine rain didn't bother me. The lower part of the track was crucial. I think I handled it well. In the last three gates I went against the water and I lost a lot of time there. Fot the past couple years I was always in the finals, so it is a big disappointment," said Matej after semifinals.
There was a chance to make things better, though, and Matej dealt with it amazingly. He started as a last-but-one in the sprint competition, and after his performance he reached the top position. Ondřej Rolenc from the Czech republic ended up in front of Matej afterall, which means Matej won the silver medal. I love wildwater canoeing, it's a beautiful sport. I won a medal on the world championships as well, finally. And I added the gold medal from the team competitions in Pau. When I saw I was 79 hundredths before the second place, I said to myself that it was a good performance, but the finish wasn't that good. I'm very satisfied with the second place," said Matej.