Traveling with the medal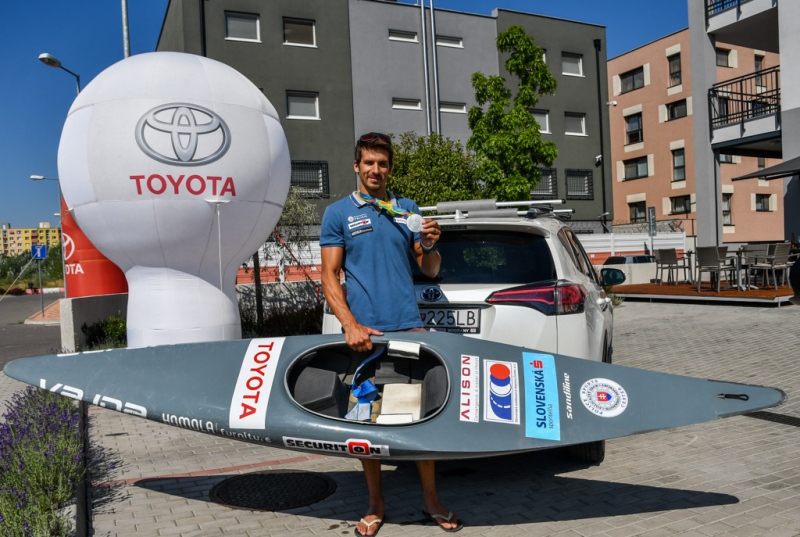 Since he returned with the silver medal from Rio, he barely had time to rest. During interviews with journalists or TV appearances, Matej Beňuš had his wife Ivanka and older son Simon with him. His younger son Tobiáš spent time with his grandparents.
,,I'm extremely happy to have achieved such an excellent result, and won the silver medal for Slovakia," said Matej at a luncheon that was prepared for him by Toyota Slovakia. ,,
Although I have already celebrated my silver medal back in Rio, it is my duty to celebrate at home again. I will organize a party after the end of the season when all the paddlers can join as well," Matej plans with a 
mischievous smile. 
He has worked hard for this result and was surprised with the fan support back in Slovakia. ,,
I was pleasantly surprised that so many people watched our race. They all cheered, yelled and whistled in front of the TV, many have told me that their apartment building almost fell," laughs Matej. He also received a gift from the famous caricature artist 
Dušan Blažek - a caricature where Matej holds the silver medal, with a statue of Jesus Christ in Rio in the background.
In addition to the media appearances, he had to start training for the rest of the season. ,

,
I am going to compete at the two World Cup races in September in Prague and Ljubljana,
 I'm going to enjoy them," said Matej. Before he departed to Prague, he was honored - as a big ice hockey fan and amateur player - to open the
 first game of the 2016/2017 season. Bratislava's hockey club Slovan played with the club Torpedo 
Nižnij
 Novgorod.

He kept his fingers crossed for Slovan. Immediately after the match, Matej drove to Prague with his family to prepare for his next race.